China has ability to deal with risks to economy: premier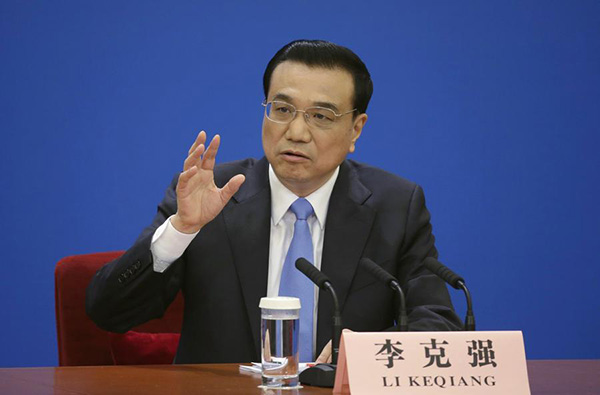 China's Premier Li Keqiang gestures as he speaks during the annual news conference following theclosing session of the National People's Congress (NPC) at the Great Hall of the People in BeijingMarch 15, 2015. [Agencies]
Chinese Premier Li Keqiang said on Monday China has the confidence and ability to deal withrisks and challenges to its economy, according to a statement on the central government'swebsite.
He also told a meeting of overseas Chinese business people that the main economic indicatorshad stabilized and positive signs are emerging in the world's second-largest economy, addingthat it has performed reasonably in the first half of the year.
His comments come after an extraordinary weekend of policy moves to help stabilize China'sstock market, which has seen a dramatic 30 percent slide since June.
Listed firms do their bit to prop up market by Cai Xiao, China Daily
China Vanke takes lead with plan to repurchase $1.61b of shares listed on Shenzhen bourse
While the government takes measures to halt the slide in the nation's stock market, listedcompanies are also taking steps to restore investor confidence.
Experts said the purpose of government intervention should be to stabilize the market and acritical determinant of further intervention depends on whether the volatility on the small andmedium-sized enterprise board and ChiNext board will continue to unsettle the rest of the market.
But the government should let the market decide the level of the rebound, they said.
China Vanke Co, the largest residential homebuilder, approved a plan to repurchase as much as10 billion yuan ($1.61 billion) of its Shenzhen-listed A shares at as much as 13.70 yuan each,which was the closing price on Friday, according to a statement to the Hong Kong StockExchange on Monday.
Led by Suning Commerce Group Co Ltd, 50 listed companies on the small and medium-sizedenterprise board in Shenzhen vowed on Saturday to take positive measures of stock repurchase,shareholding increase and no reduction in shareholdings for the moment.
Zhang Jindong, chairman of Suning, promised that the company would not reduce shareholdingwithin three years. As non-tradable shares of Suning's major shareholders worth around 29.7billion yuan would become tradable on Friday, Zhang's promise meant that they would hold themfor a period of three more years.